Door Air Curtains
Tandem
Ambient and warm air stream for effective cold air screening.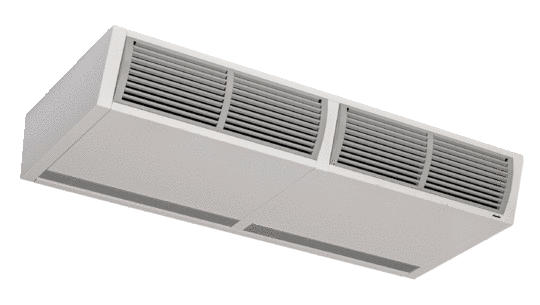 Overview
Our products are suitable for use with refrigerants. Use the natural refrigerant CO2 with low global warming potential.
Simple control by the new combined controller. Door air curtains can also be flexibly integrated in automation systems via the BMS interfaces.
One small step and your customers find themselves in a pleasant sales environment. Open doors lower customers' inhibitions to enter a shop. And at the same time, Tandem air screening significantly reduces energy loss.
Tandem Door air curtains use a patented combination of both ambient and warm air streams to achieve energy savings of up to 38 %.The unheated ambient air stream eliminates adverse turbulence improving performance and reducing heat losses to outside. This gives you a significantly faster return on investment.
Adverse weather, in summer and in winter, stays outside, thanks to the enhanced penetration depth between two parallel air streams of different temperatures.
We can help you when it comes to deciding whether your unit should be horizontal, ceiling-mounted or with the appearance of a continuous unit with coupling set. That's what sets Kampmann service apart. All special requests are, of course, always considered.
Short delivery times give you flexibility and speed: all standard units are available in the shortest possible time. Following technical clarification, the standard version of the Tandem door air curtain can be delivered within seven days. You can rely on us. After all, your customers rely on you.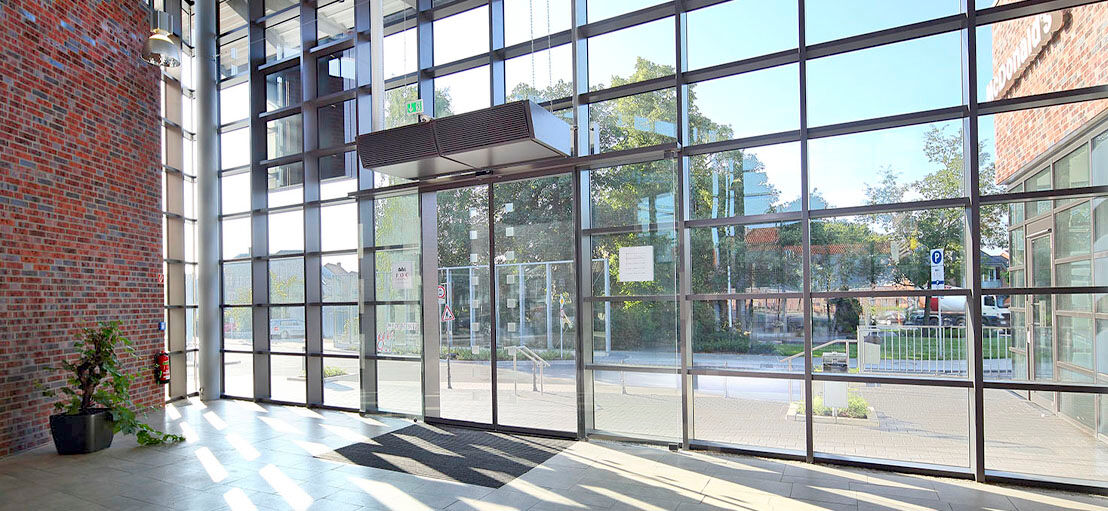 For rectified, low-turbulence air discharge
Up to 20 ° rotatable
Proven combination of copper/aluminium
Prevents damage to the heat exchanger when fitting the valves
Optional: Valves (accessories)
Patented, self-regulating generation of ambient air stream and warm air stream (Tandem technology)
Infinitely variable
Opens with minimal effort
Simple filter replacement without tools
References
Hotel Roomers, Baden-Baden
Hotel Lido Palace, Riva del Garda TN
Hotel Lido Palace, Riva del Garda TN
continue
Downloads
Declarations/Certificates
TÜV Certificate ISO 9001:2008
PDF (133 kB)
EU Declaration of Conformity UniLine, Tandem door air curtains
PDF (456 kB)
UKCA Declaration Door Air Curtain
PDF (498 kB)
BIM data (Building Information Modeling)
Kampmann Group BIM data
()
Technical catalogues
Tandem door air curtains
PDF (8.5 MB)
Tandem door air curtains
PDF (8.8 MB)
Installation manuals
Tandem door air curtains
PDF (7.5 MB)