Door Air Curtains
UniLine
The value-for-money design for all standard applications.
Overview
Would you like lower investments? And high-performance? Then you simply should not deprive your customers of the UniLine.
One step – and your customers are in a pleasant sales environment. Open doors reduce our reluctance to enter a shop – and besides, UniLine air screening reduces energy losses.
Silent AutoMotion (SAM) allows high air discharge velocities at low air volumes. The operation in a low mode results in reduced sound emissions. The UniLine features an energy-efficient drive concept through the use of EC technology.
UniLine door air curtains effectively screen doors against cold air. From one to three metres in height, individually or as a wide frontage.
Make your in-house facilities manager your friend: the large filter, including frame and intake grille, can be removed with ease. The large maintenance access panel is practical. The entire underside of the unit can be opened by a few simple actions.
UniLine is the door air curtain all-rounder. You can reliably choose the right unit for your project from our streamlined and comprehensive range.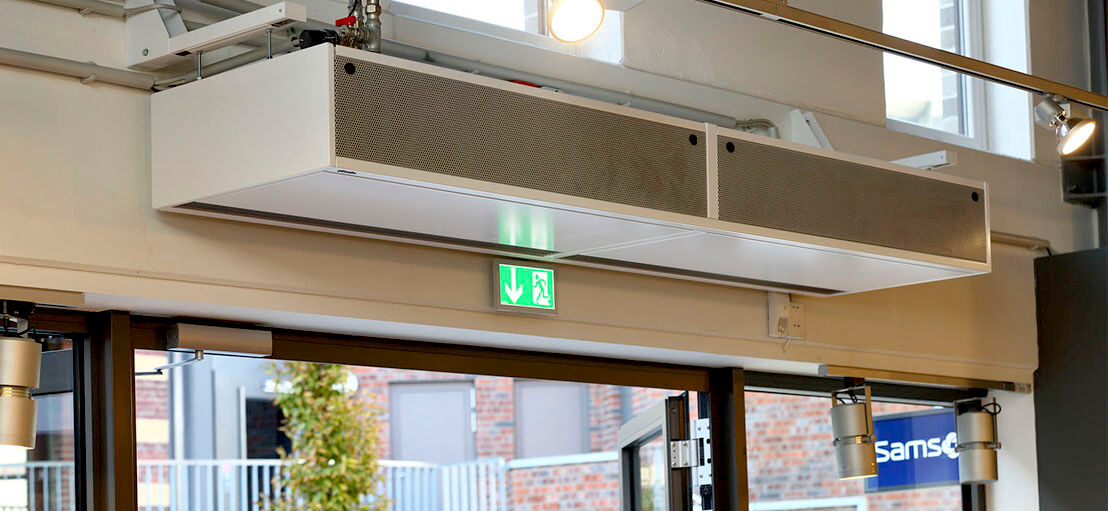 Prevents damage to the convector when screwing in the valves
Optional: valves (accessories)
Provides for a commutated low-turbulence air outlet
With Silent AutoMotion technology for efficient screening at low operating states
Easy and quick to fold down
Rapid access for maintenance work
Opens with minimum effort
Easy filter replacement without the use of any tools
High-performance radial fans for high air volumes
Wired ready for connection
A proven combination of copper/aluminium
Optimised for air flow and heat dissipati
References
JUFA Hotel Hamburg HafenCity, Hamburg
JUFA Hotel Hamburg HafenCity, Hamburg
continue
Hotel Star Inn, Heidelberg
Downloads
Declarations/Certificates
TÜV Certificate ISO 9001:2008
PDF (133 kB)
EU Declaration of Conformity UniLine, Tandem door air curtains
PDF (456 kB)
UKCA Declaration Door Air Curtain
PDF (498 kB)
BIM data (Building Information Modeling)
Kampmann Group BIM data
()
Installation manuals
UniLine door air curtains
PDF (5.5 MB)
Technical catalogues
253_UniLine_UK.pdf
PDF (16 MB)
UniLine, Cassette-UniLine Door Air Curtains
PDF (15.9 MB)