Unit Heaters
Ultra
Ceiling unit for heating, cooling, ventilation in large, high-end interiors.
Overview
The product range gives you complete design freedom: with a height of only 330 mm, three different sizes, extensive accessories and much more.
Thanks to the separate ventilation and temperature control of the Kampmann Hybrid ECO system! An approach that cannot fail to impress: cost-efficient and space-saving to install, easy to control and energy-saving to operate.
Our products are suitable for use with refrigerants. Use the natural refrigerant CO2 with low greenhouse gas potential.
Ultra unit heaters represent high-performance and also energy-saving units from Kampmann: they operate at the precise output needed – thanks to new continuously variable control. Not a watt less, but not a watt more either. For end users this means that Ultra units do not emit a single decibel more than is needed.
We are committed to the mantra of "Getting rid of dead wood" with our unit heaters and are systematically moving over to EC technology. The entire Ultra range is ErP-compliant – now and in future. Our EC motors operate extremely energy-efficiently and also very quietly, thanks to their whisper-quiet sickle-blade fans.
Significant costs are saved in the long term by the use of energy-efficient EC fans and the maintenance-friendly cooling models with external pump sump.
You need the Ultra for large spaces with large surface areas. With its 4-layered heat exchanger, the Ultra has just the right character for heating with low water temperatures.
You can count on high heating and cooling outputs in every direction with the perfectly proportioned, circular heat exchanger. Simply adjust the wide slats to decide whether the conditioned air is to be directed.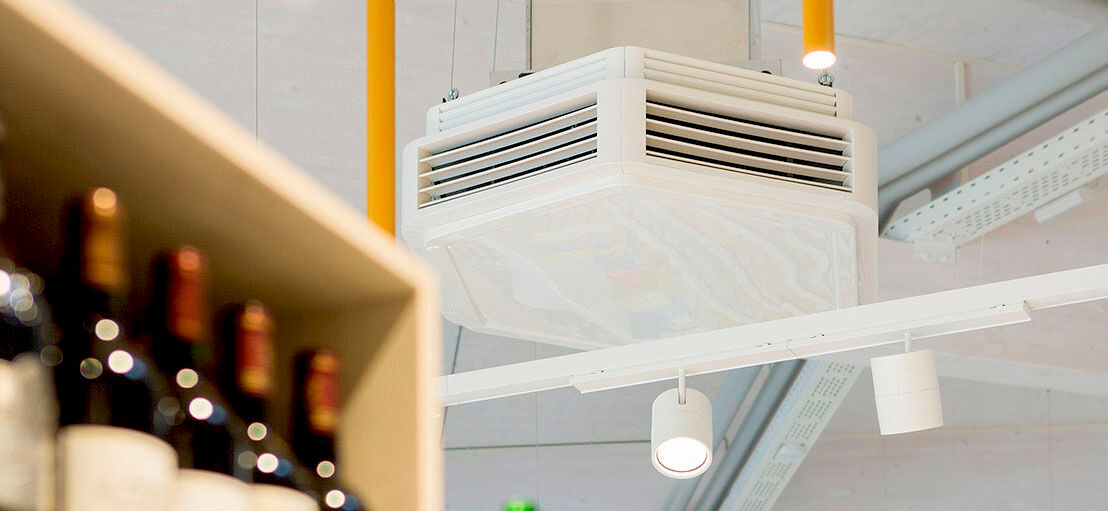 Continuously variable control and energy-saving operation
EC motors with whisper-quiet sickle-blade fans are ErP-compliant
Heating: low-temperature version for operation with very low water temperatures
Cooling: highest possible cooling output even with dry cooling by means of round large-surface heat exchanger
Ease of access by snap-lock quick-release closure and positioning aid
External pump sump for visual control through the outlet grille
Float switch easily accessible – without the need to dismantle the base and condensation tray
Energy-saving condensate pump even more powerful and quieter with a delivery height of up to 8 m
Controlled flow of residual water during maintenance – outlet connector in the pump sump
Housing with easily removable base cover for maintenance
The air flows from six discharge fields and is directed by air guidance fins. They can be adjusted to engage in one of six positions.
References
"aktiv & irma" supermarket, Oldenburg
"aktiv & irma" supermarket, Oldenburg
continue
Downloads
Declarations/Certificates
TÜV Certificate ISO 9001:2008
PDF (133 kB)
EU Declaration of Conformity for unit heaters
PDF (181 kB)
UKCA Declaration Unit Heater
PDF (456 kB)
ErP data sheet 2016-2281 for Ultra unit heater
PDF (97 kB)
ErP data sheet 1253-2014 for Ultra unit heater
PDF (233 kB)
BIM data (Building Information Modeling)
Kampmann Group BIM data
()
Technical catalogues
Ultra unit heaters
PDF (8 MB)
Installation manuals
Ultra unit heaters
PDF (5.1 MB)
Ultra unit heaters, brief instructions
PDF (2.1 MB)
CAD-Drawings
Ultra unit heaters, heating or cooling [Inch]
PDF (226 kB)
Ultra unit heaters, heating [Inch]
PDF (331 kB)
Ultra unit heaters, heating or cooling [mm]
PDF (245 kB)
Ultra unit heaters, heating [mm]
PDF (358 kB)
Ultra unit heaters, heating [Inch]
DXF (10.8 MB)
Ultra unit heaters, heating or cooling [Inch]
DWG (1.4 MB)
Ultra unit heaters, heating [Inch]
DWG (1.4 MB)
Ultra unit heaters, heating or cooling [mm]
DWG (1.9 MB)
Ultra unit heaters, heating [mm]
DWG (2 MB)
Ultra unit heaters, heating or cooling [Inch]
DXF (10.3 MB)
Ultra unit heaters, heating [mm]
DXF (14.8 MB)
Ultra unit heaters, heating or cooling [mm]
DXF (14.3 MB)