Trench Technology
Katherm HK
EC tangential fan-assisted convection for heating or cooling.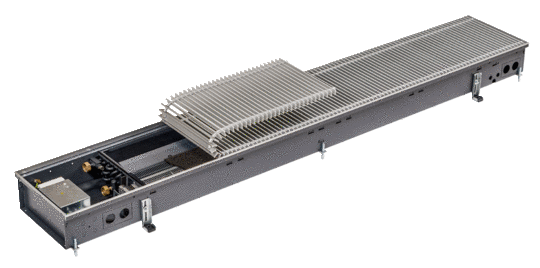 Overview
State-of-the-art EC tangential fans with low power consumption ensure energy-saving operation combined with low sound levels. The fixing system in the floor trench, perfected over many years, which also incorporates sound decoupling ensures that the unit can be quickly and easily removed for cleaning and maintenance.
It's unique! Thanks to improved condensate drainage in cooling mode, coupled with the ease of cleaning of the condensate tray, the Katherm HK is totally hygienic!
The unit comes with a factory-fitted BMS interface to allow precise control of the performance.
The narrower trench width and shallower trench height of the totally redesigned Katherm HK delivers an optimised output range for on-demand heating and cooling from low level. With its new incremental lengths, the Katherm HK is the solution for the most diverse building requirements.
The arrangement and air guidance have both been optimised on the Katherm HK and guarantee maximum comfort levels in all rooms.The unit is enhanced with air flow-optimised roll-up and linear grilles.
We have the right grille for every installation situation – even with curves, angled and slopes.
In addition to our metallic optiline grilles made of aluminium, brass and stainless steel, we also have decorative wood grilles.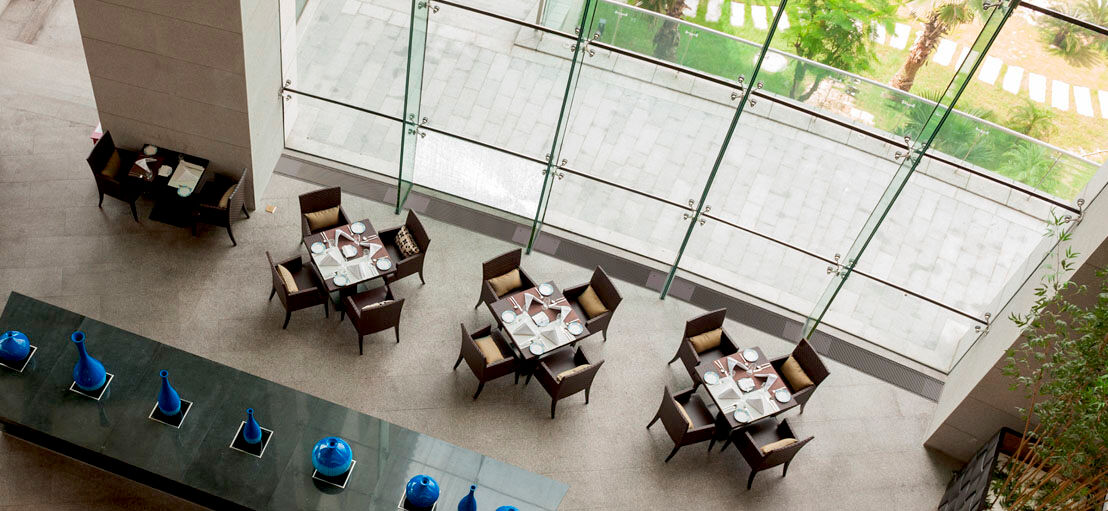 Energy-saving, with flow-optimised impellers, cascaded arrangement as a continuous fan belt
Easily removeable, plug & play fan
Even air flow through convector
Robust and whisper-quiet motor design
Continuously variable control via external 0-10 V signal
Made of the proven combination of copper/aluminium
Optimised for air flow and thermal performance
Eurokonus valve connection
Act as a finger guard for the tangential fan, filter frame, airflow baffle, grille seat and reinforcing stay to strengthen the trench
For safe discharge of the condensate and simultaneous air guidance
Specifically designed for simple cleaning in line with the hygienic standards
Can be removed to the room side for ease of cleaning
Condensate pump (accessory) to drain condensate, if needed
Easy removal of tangential fan without tool
Novl coupling/cone pin system
Simultaneous sound decoupling
For fast and safe wiring, saves installation time
For the introduction of pre-conditioned supply air
The primary air volume flow rate can be adjusted up to 60 m³/h air volume per module
Number of modules can be selected according to trench length
References
Hotel Roomers, Baden-Baden
Downloads
Declarations/Certificates
TÜV Certificate ISO 9001:2008
PDF (133 kB)
EU Declaration of Conformity Katherm trench heating
PDF (457 kB)
UKCA Declaration Katherm HK, QK, QK nano
PDF (468 kB)
Leaflets/Flyers
Special Katherm HK
PDF (2.3 MB)
Installation manuals
Katherm HK trench heating
PDF (11.9 MB)
Technical catalogues
Katherm HK trench heating
PDF (12.2 MB)
BIM data (Building Information Modeling)
Cross-product information
Information sheet trench heating BS EN 16430 UK version
PDF (215 kB)