Trench Technology
Katherm QE
Fan-assisted trench heating with EC technology and electrical element.
Overview
With an electric heating element, the Katherm QE offers the ideal solution without the need to connect to a water supply. The high heat output is supported by the fan.
Tangential fans enable high-output yet energy-saving operation with low noise levels.
The integrated safety thermostats and temperature cut-outs enable low surface temperatures – giving you added safety.
One width. One height. Three lengths – there's no need for more. Every trench has been optimised for efficiency and noise emission.
By means of the integrated lower control, control continuously variably by room thermostat or BMS – including 2-stage safety cut-out in the event of improper use.
Harmonious look without a breakin style – a matching frame for every roll-up grille.
Whatever the shape of your building: Kampmann grilles fit perfectly - even around curves, mitres and angles.
Besides our metallic Optiline grilles in aluminium, brass and stainless steel, we also offer decorative covers in wood.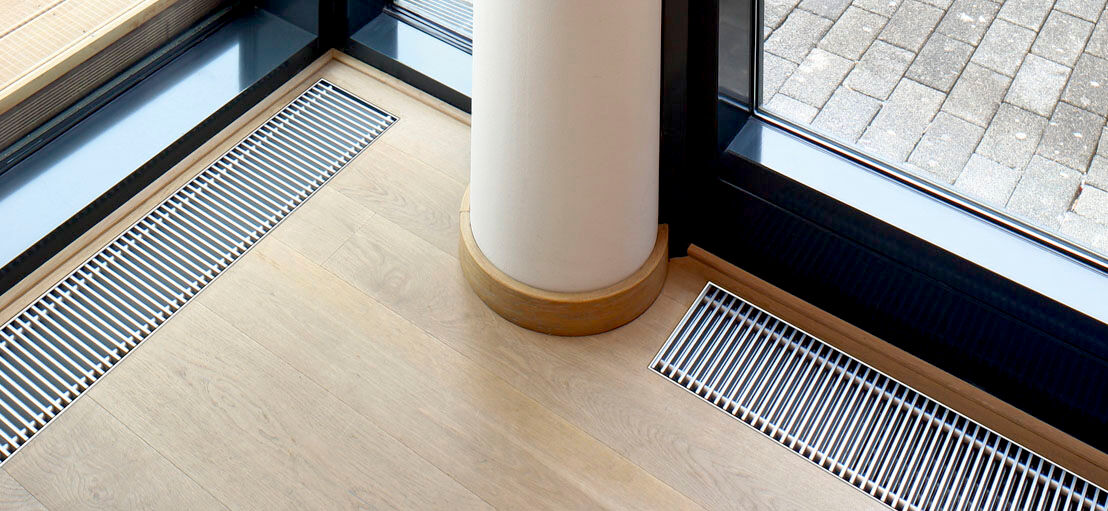 Protection class IP 65
Heating element factory-wired into control unit
As visual protection of the connections
With integral ventilation slot
Acts as a touch guard, factory-fitted
The grille can only be removed using a tool
Stainless steel/zinc aluminium with continuously variable control of heating element and fan controlled by a 0-10 V signal
With integral grille as a safety guard for an even airflow through the heating element, providing high heat outputs with low noise emissions continuously variable speed control via an external 0-10 V signal motor monitoring with internal fault processing
References
Hotel Roomers, Baden-Baden
Product Selection
Your search resulted in 3 hits
Length

(mm)

max. heating capacity

(W)

Sound pressure level

(dB(A))

Sound power level

(dB(A))

Grille finish
Calculation
825
800
< 20 – 28
< 28 – 36
Aluminium, natural anodised
Calculate
1250
1600
< 20 – 31
< 28 – 39
Aluminium, natural anodised
Calculate
1700
2400
< 20 – 33
< 28 – 41
Aluminium, natural anodised
Calculate
Downloads
Declarations/Certificates
TÜV Certificate ISO 9001:2008
PDF (132 kB)
EU Declaration of Conformity Katherm trench heating
PDF (840 kB)
Technical catalogues
Katherm QE trench heating
PDF (4 MB)
Leaflets/Flyers
Spezial Katherm QE
PDF (2.3 MB)
Installation manuals
Katherm QE trench heating
PDF (1.8 MB)